If you're in a day-long meeting or hosting corporate guests during the lunch hour, it's important to make sure everyone is fed. Instead of worrying about putting together a huge party catering spread or planning out quantities based on meeting attendees, Karsh's Catering makes it easy with our box lunches in Fresno, Fresno County, Muscatel, and San Joaquin Valley, CA.
We prepare complete box lunches for as many people as you're playing host to for our lunch catering, delivering them directly to you so you don't have to break the meeting or stray off track. The best part? We can customize box lunch options in an infinite number of options, including sandwiches and other cold foods, as well as sides and drinks. There's no easier way to make sure everyone at your corporate event is properly fed and prepared for the afternoon.
Why Choose Box Lunches?
Why choose box lunch delivery instead of traditional lunch catering in Fresno, CA? Take a look at some of the many ways box lunches make it easy for everyone to enjoy themselves at your next corporate lunch:
No standing in line for buffets
Food doesn't sit out and become stale in the afternoon
Portions are perfect for every individual
Made fresh and delivered fast, for a delicious experience
On-site serving staff and equipment not required
Easy to enjoy and clean up
There's so much to love about box lunches and Karsh's Catering, gives you one more reason to choose this style of lunch catering: our box lunches are made with care and absolutely delicious to enjoy! We promise each and every person at your office will love every bite of their box lunch.
Get Lunch Catering Today
Ready to satisfy your lunch crowd? Contact Karsh's Catering, today to request box lunch delivery and we'll be glad to speak with you about your preferences and quantities. We'll make sure your guests and employees enjoy a delicious lunch, so everyone can get back to work feeling energized and focused. Contact us today at 559-906-2433.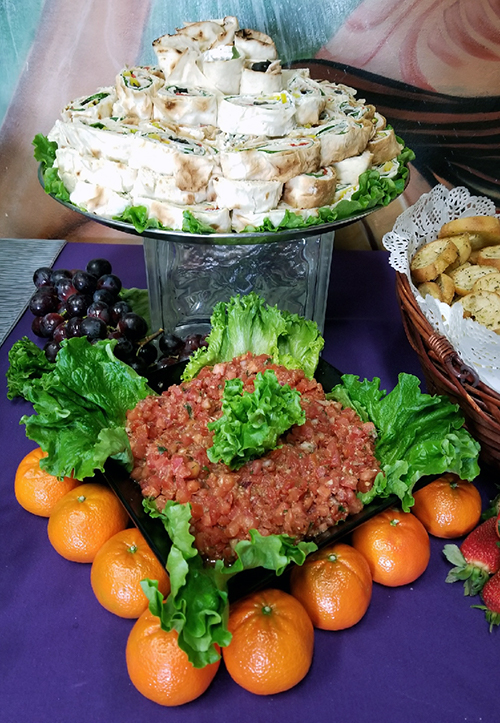 Drinks $2.50 Each
Sandwiches
Turkey & Swiss
Roast Beef & Swiss
Ham & Cheddar
Genoa Salami & Provolone
Bowls
Chicken Teriyaki Bowl with Gyoza
Sides
Potato Salad
Macaroni Salad
Entree Salads
Grilled Chicken Caesar – Romaine Lettuce, tomatoes, croutons Parmesan cheese House made dressing
Asian Fusion Chicken
Drinks
Coke
Diet Coke
Sprite
Water
Iced Tea
All sandwiches include; Shredded lettuce, mild pepper rings, tomatoes, mayonnaise & mustard packets seasonal fresh fruit and chocolate chip cookies. Choice of potato salad, salad or macaroni salad.
Box Lunch Order Form